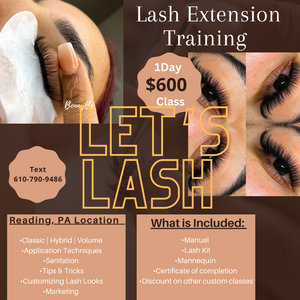 This is a class for anyone who has the desire ans drive to become a Lash Artist. This class is taught by BonnyBe who has 5 years experience in the Beauty Industry. BonnyBe is well rounded and has taught in well known Beauty Bars & Salons. As a Esthetician BonnyBe is aware that some just need to learn ONE thing like Fanning Techniques, Volume Lash Application, what to order when starting out and etc. So we decided to make these classes customizable to what YOU want to learn in the class
This Class required a Non Refundable Deposit of $200.00 The remaining balance will be due day of class before class begins. 
Once purchase is complete you will get an confirmation email. BonnyBe will contact you personally to discuss your class schedule and also confirm the details of the course. This is a built in consultation! 
This class is held in Reading, Pennsylvania 
This Class Includes:
Theory's

Product Knowledge & Ordering Supplies

Sanitation

Application Process & Proper Isolation

How to create your own Signature Styles

Build Your Own BonnyBe Lash Supply Kit

Tips & Tricks

Marketing Assistance